Sony Interactive Entertainment España (SIE España) y Precision España ha anunciado que el videojuego System of Souls llegará a PS5 y PC el próximo 19 de mayo y además tendrá edición en formato físico.
System of Souls, videojuego de puzles y plataformas hecho por el estudio indie Chaotic Lab, tendrá una edición física para ambas consolas (PS4 y PS5), disponible el mismo día 19 y editada por Selecta Play. El juego ya se puede reservar y añadir a las listas de deseados en todas las plataformas y tiendas habituales.
System of Souls, juego del que podéis leer nuestro análisis en esta entrada, traslada a los jugadores al año 2155 donde, después de que la vida en la Tierra se haya hecho insostenible por la grave crisis medioambiental, los seres humanos solo pueden sobrevivir transfiriendo sus almas a cuerpos robóticos desarrollados por la empresa neurotecnológica ION.
En este marco posapocalíptico, los jugadores toman el control de L-064N, un alma transferida a un último modelo de robot que tratará de recordar quién es y qué hace en las instalaciones de ION. Con la ayuda de Aura, una superinteligencia artificial del lugar, el protagonista pasará por distintas pruebas lógicas con el fin de estimular su red neuronal y obtener de vuelta sus recuerdos e identidad.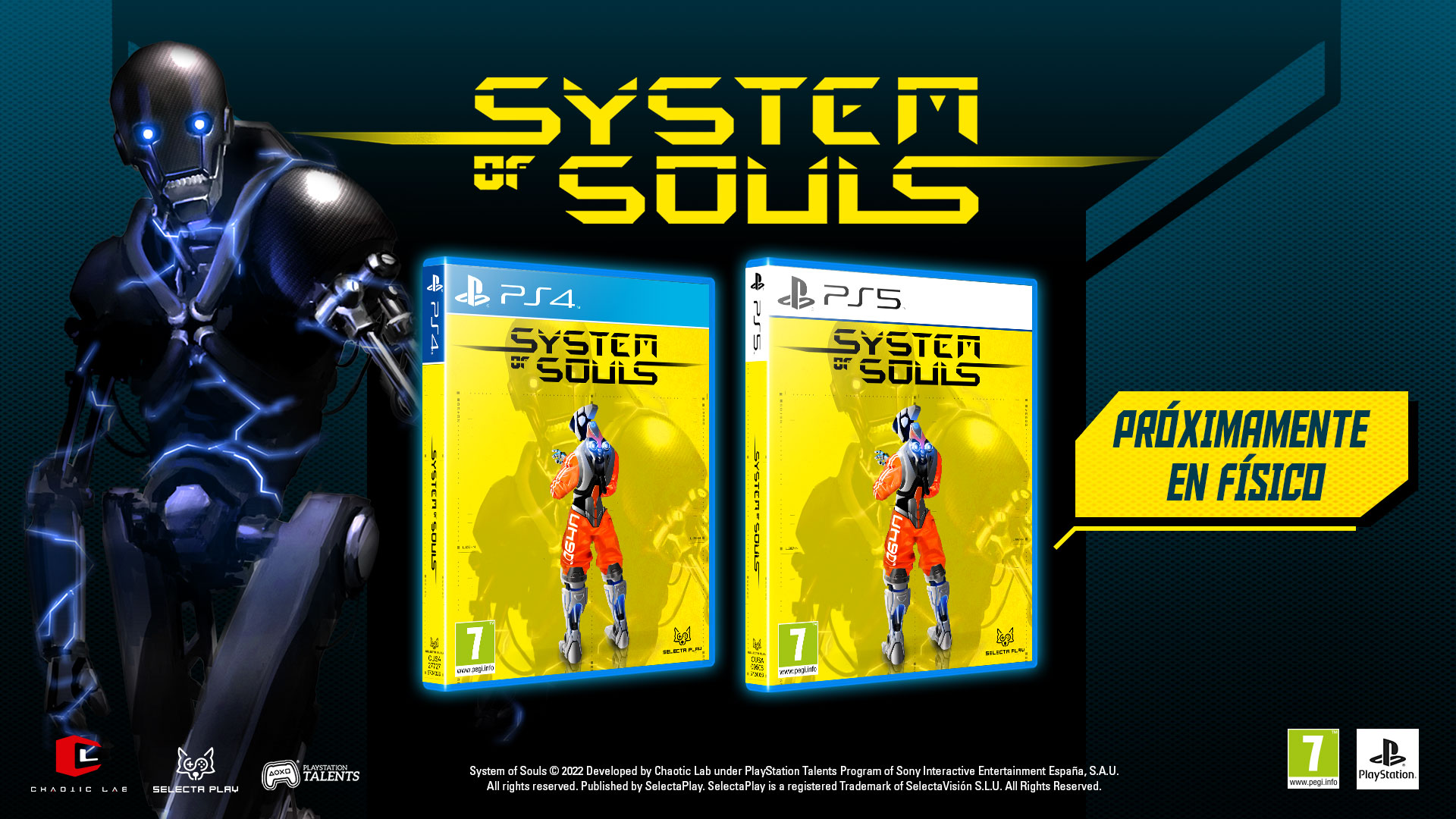 Bajo una estética futurista y cyberpunk que recuerda a grades obras de la ciencia ficción popular, System of Souls pone el foco en la experimentación del jugador, clave para resolver diferentes retos intelectuales de dificultad progresiva.
System of Souls ha sido desarrollado en el PlayStation Talents Games Camp de Málaga y cuenta con el apoyo de la Escuela Superior de Videojuegos y Arte Digital (EVAD) y la Fabrica del Videojuego de Málaga.
Tenéis más información en el Blog Oficial de PlayStation España y en los perfiles de Twitter de Chaotic Lab y @PSTalents.