Sony Interactive Entertainment España (SIE España) ha anunciado que el videojuego indie The Library of Babel, una aventura gráfica en 2D de sigilo y plataformas desarrollada por el estudio catalán Tanuki Games, llegará este otoño a consolas PlayStation.
Inspirado en la obra original de Jorge Luis Borges, The Library of Babel transcurre en un futurista mundo selvático 2000 años tras la extinción humana. Dirigido por una avanzada sociedad robótica que conoce muy poco acerca de sus ya míticos creadores, este mundo se ve afectado cuando el protagonista, Ludovik, descubre una antigua biblioteca que contiene secretos hasta ahora desconocidos.
El jugador encontrará un enorme mundo repleto de junglas, templos abandonados y habitantes robóticos con los que interactuar, con un sistema de diálogo y gestión de recursos que recuerdan a las aventuras gráficas de los 90. The Library of Babel promete una oscura aventura llena de peligro, intriga y reflexión; un relato atmosférico dibujado completamente a mano sobre la infinidad y la locura.
PlayStation Talents Games Camp es la modalidad del programa de SIE España de apoyo a la industria que ofrece apoyo y mentorización a los estudios para el desarrollo de sus primeros videojuegos. PlayStation Talents es una INICIATIVA GLOBAL creada por Sony Interactive Entertainment España que agrupa todas las iniciativas que la compañía lleva más de una década implementando para desarrollar el talento y los contenidos locales para venderlos por todo el mundo.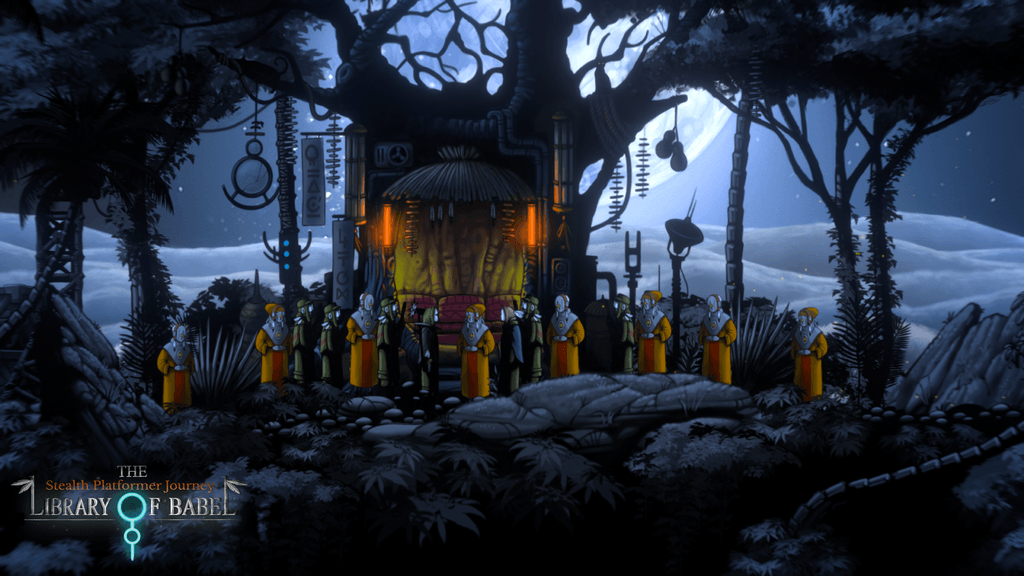 Con esta nueva iniciativa, Sony Interactive Entertainment España respalda con su propio SELLO DE CALIDAD 'Made in Spain 4.0' los proyectos e iniciativas surgidas en este marco:
Impulsando definitivamente el talento nacional.
Formando a los futuros profesionales de la industria.
Potenciando el emprendimiento del sector de los videojuegos.
En EEM hemos analizado muchos juegos de Talents y seguiremos haciéndolo dado que es muestra del apoyo al talento nacional, que lo hay y mucho 🙂