PlayStation Talents ha anunciado que Windfolk: Sky is just the Beginning llega a PC el próximo 27 de septiembre con una versión sencilla y, además, con una edición especial, Windfolk: Trydian Edition, novedad tanto para PS4 como para PC (Steam).
Windfolk: Sky is just the Beginning es un juego que ya analizamos en su momento (aunque fue en el blog de ALM), producto sacado con apoyo de la iniciativa PS Talents y que consiste en un shooter de acción en tercera persona desarrollado por Fractal Fall. En esta divertida aventura de niveles el jugador se pondrá en la piel de Esen, una soldado del bando rebelde que deberá luchar para proteger Eurian volando con su potente jetpack.
En PS4, la edición especial, llamada Windfolk: Trydian Edition incluirá el videojuego base, banda sonora original y cuatro avatares a un precio de 14,99€, y en PC (Steam) incluirá el videojuego base y banda sonora original a un precio de 12,99€. A su vez, la edición original del juego en PS4 bajará permanentemente de precio el mismo 27 de septiembre a 10,99€.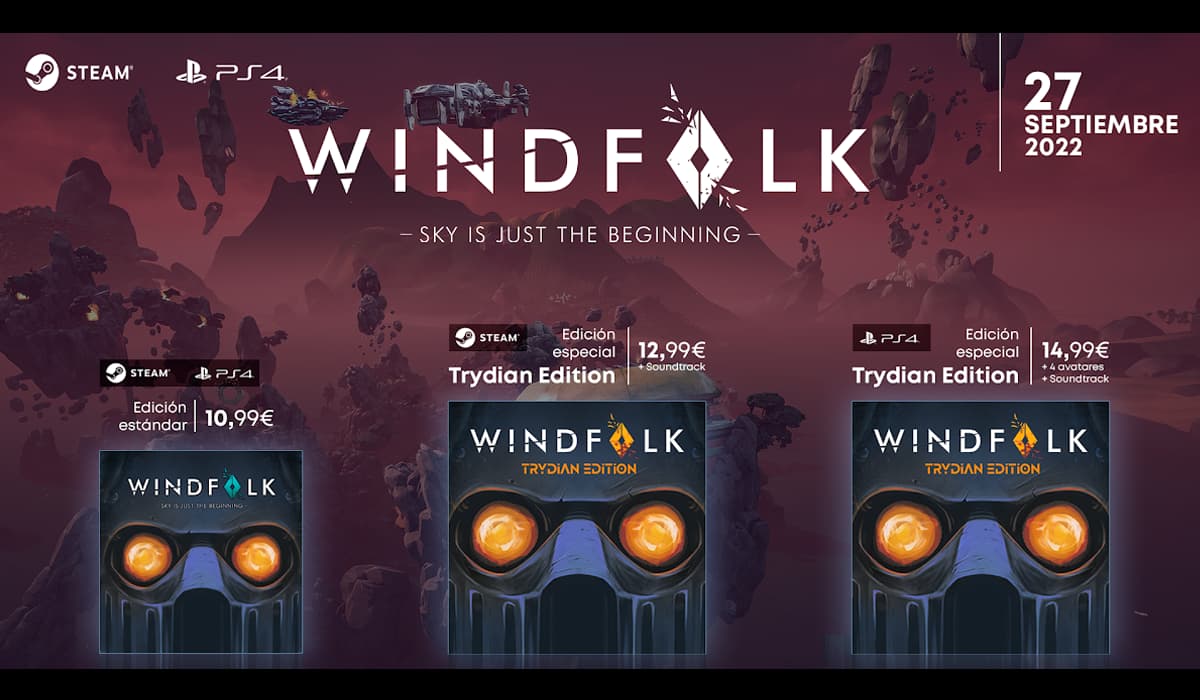 Las ediciones standalone de Windfolk ya se pueden reservar tanto en PS4 como en Steam.
Por su parte os recordamos que PlayStation Talents es una INICIATIVA GLOBAL creada por Sony Interactive Entertainment España que agrupa todas las iniciativas que la compañía lleva más de una década implementando para desarrollar el talento y los contenidos locales para venderlos por todo el mundo.
Con esta  iniciativa, Sony Interactive Entertainment España respalda con su propio SELLO DE CALIDAD 'Made in Spain 4.0' los proyectos e iniciativas surgidas en este marco:
Impulsando definitivamente el talento nacional.
Formando a los futuros profesionales de la industria.
Potenciando el emprendimiento del sector de los videojuegos.
Una COMUNIDAD para los amantes de los videojuegos que podrán ver sus proyectos hechos realidad gracias a PlayStation Talents.