Sony Interactive Entertainment España (SIE España) ha anunciado que The Many Pieces of Mr.Coo, de Gammera Nest, ya está disponible en PS4, PS5 y PC y ya se puede encontrar en las diferentes tiendas digitales.
The Many Pieces of Mr.Coo es una enigmática aventura de point&click con un apartado artístico hecho y animado completamente a mano, presenta la historia de Mr.Coo, un simpático personaje que deberá atravesar un mundo repleto de personajes y situaciones extravagantes para recomponer las piezas que le faltan. En esta carismática aventura, el jugador se adentrará en una breve pero inolvidable travesía a lo largo de un reino onírico cargado de un simbólico sinsentido y de rompecabezas ingeniosos.
Además, el juego llegará en formato físico mediante dos ediciones especiales de la mano de Meridiem Games que distribuirá en tiendas para PlayStation 5:
Así es la Fantabulous edition (PVPR 29,99€):
Una funda exclusiva
Llavero exclusivo del personaje Mr. Coo.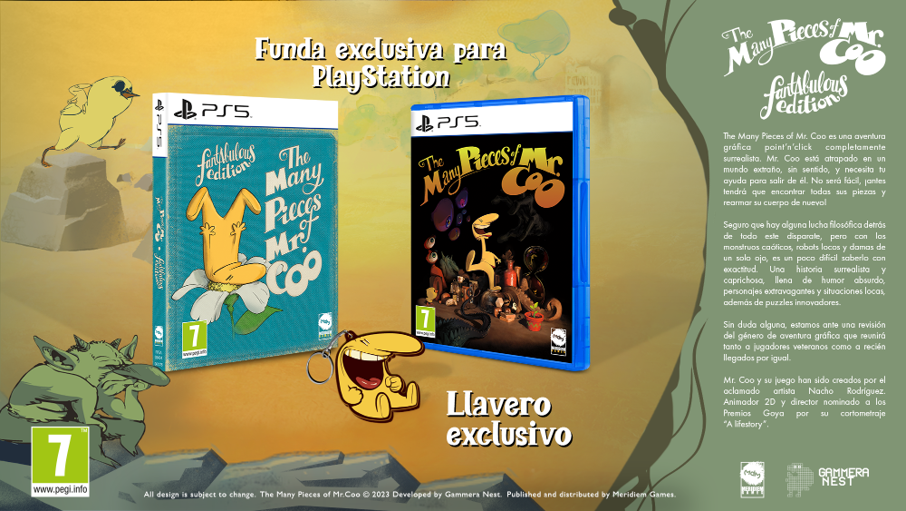 The Many Pieces of Mr.Coo, Coolector edition (PVPR 99,99€):
Funda exclusiva
Llavero exclusivo del personaje Mr. Coo,
flipbook con dos historias animadas exclusivas,
Acuarela misteriosa del artista Nacho Rodríguez,
Puzle
Libro del artista donde ver el proceso de creación del juego
Vinilo de 7" con la música del juego creada por Julie Reier
Caja coleccionista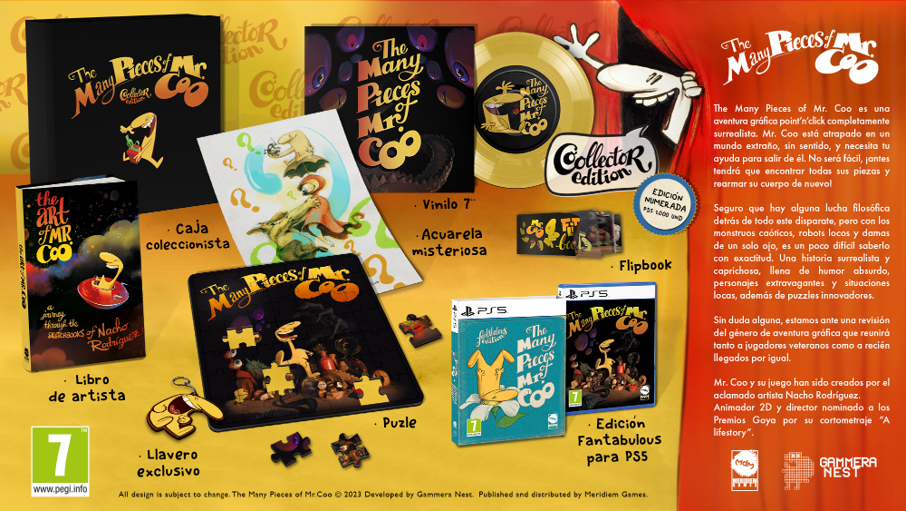 El videojuego es una idea original del ilustrador Nacho Rodríguez, que ha animado y dibujado el videojuego completamente a mano. Como otros tantos juegos, tiene el apoyo de PS Talents, una INICIATIVA GLOBAL creada por Sony Interactive Entertainment España que agrupa todas las iniciativas que la compañía lleva más de una década implementando para desarrollar el talento y los contenidos locales para venderlos por todo el mundo. Con esta nueva iniciativa, Sony Interactive Entertainment España respalda con su propio SELLO DE CALIDAD 'Made in Spain 4.0' los proyectos e iniciativas surgidas en este marco:
Impulsando definitivamente el talento nacional.
Formando a los futuros profesionales de la industria.
Potenciando el emprendimiento del sector de los videojuegos.
Una COMUNIDAD para los amantes de los videojuegos que podrán ver sus proyectos hechos realidad gracias a PlayStation Talents.