Ziran ha anunciado que ya se puede volver a disfrutar aplastando cabezas de Stroggs con el nuevo lanzamiento del laureado shooter en primera persona publicado por id Software en 1997: la versión mejorada de Quake II está disponible en Game Pass, Xbox Series X|S, Xbox One, Nintendo Switch, PC, PlayStation 5 y PlayStation 4.
Disfruta de Quake II, el juego original, mejorado
Disfruta de una versión de Quake II totalmente fiel al original, pero ahora con:
Hasta 4K y compatibilidad con pantallas anchas
Modelos mejorados
Sangre, vísceras y animaciones de los enemigos mejoradas
Respuestas de la IA mejoradas y restauradas
Cinemáticas mejoradas, iluminación dinámica y coloreada, antialiasing y profundidad de campo
La banda sonora original de rock compuesta por Sonic Mayhem y mucho más
Multijugador online y modos cooperativos
Hazte con los dos packs de misiones originales
Quake II incluye los dos packs de misiones originales: "The Reckoning", con 18 niveles de campaña y 7 mapas de Partida a muerte, y "Ground Zero", con 15 y 14, respectivamente.
Pack de misiones: The Reckoning
Pack de misiones: Ground Zero
Juega a la nueva expansión "Call of the Machine"
Una nueva experiencia Quake II creada por MachineGames y formada por 28 niveles de campaña y un mapa de Partida a muerte. En lo más profundo del espacio Strogg se encuentra la Máquina, un aparato capaz de destruir el tejido mismo de la realidad. Ábrete paso a través del espacio-tiempo para buscar el Strogg-Maker, destruirlo y cambiar el destino de máquinas y seres humanos.
Disfruta del multijugador y cooperativo local y online
En el modo online cooperativo para 4 jugadores o a pantalla dividida en local, enfréntate a los hostiles Stroggs en una cruda campaña de ciencia ficción militar con sus expansiones. O, si lo prefieres, compite en batallas de estilo retro de hasta 16 (online),*4 (local a pantalla dividida) u *8 jugadores (local a pantalla dividida). Incluye la posibilidad de usar bots en los modos Partida a muerte y Partida a muerte por equipos tanto online como offline.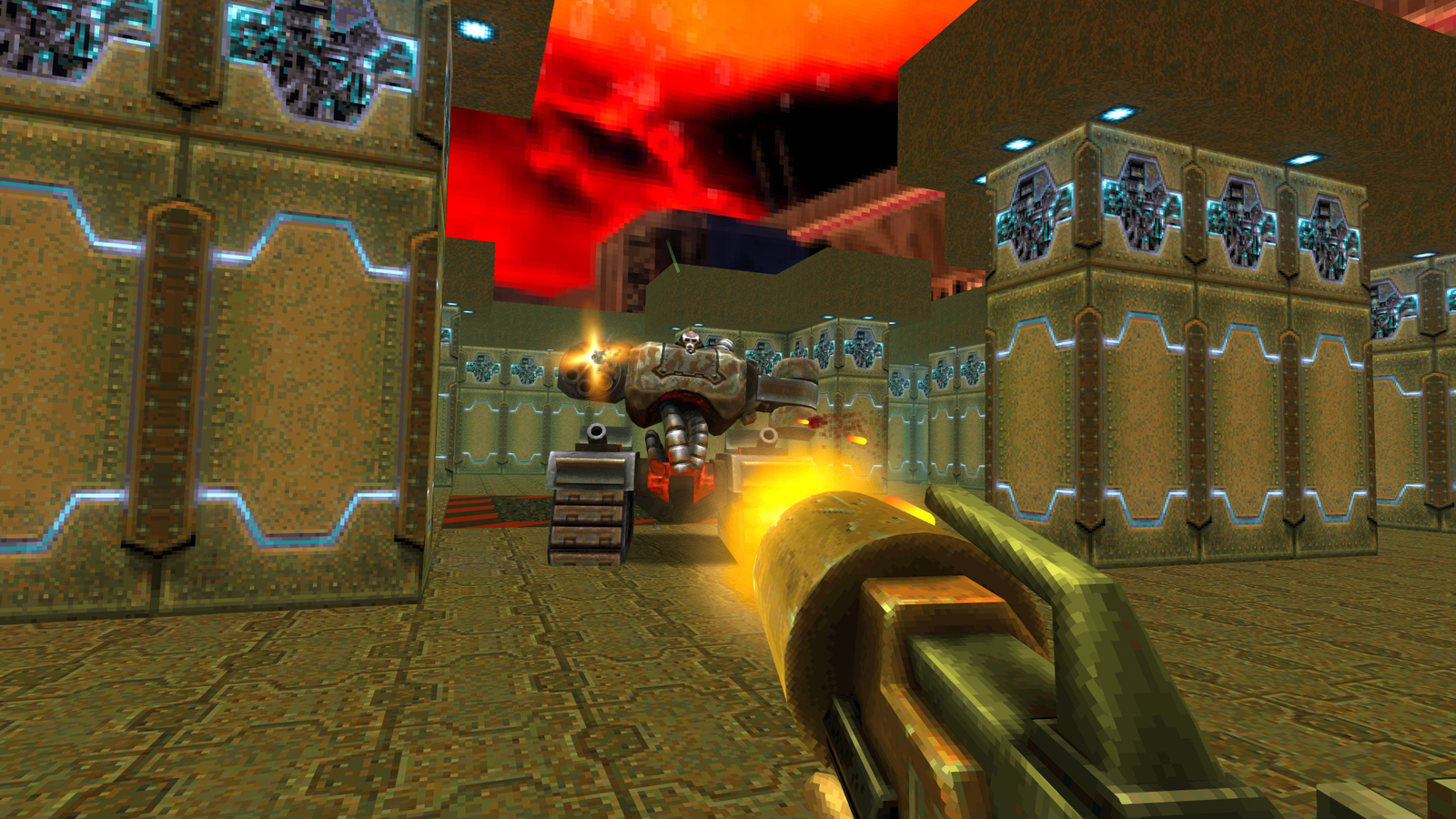 Juega con amigos mediante juego cruzado
Juega la campaña y todos los packs de expansión en modo cooperativo o enfréntate a tus amigos en partidas multijugador sin importar la plataforma. El juego cruzado es compatible entre PC (con mando), Xbox One, Xbox Series X/S, PS4, PS5 y Nintendo Switch.
Vinilo de Quake II
Además, hoy hemos anunciado que la banda sonora original de Quake II saldrá en vinilo este año gracias a nuestros amigos de la discográfica Laced Records.
Si quieres informarte sobre el disco y saber cómo reservarlo, pásate por www.lacedrecords.com.