Sony Interactive Entertainment (SIE) ha anunciado que PlayStation VR2 (PS VR2), el nuevo dispositivo de realidad virtual de PlayStation, contará en su ventana de lanzamiento -programada para el próximo 22 de febrero- con más de 30 videojuegos disponibles.
El amplio catálogo de juegos de PlayStation VR2 en su ventana de lanzamiento estará encabezado por Horizon Call of the Mountain, el AAA exclusivo de PlayStation desarrollado por Guerrilla Games, y por la actualización gratuita a VR de Gran Turismo 7, el mítico simulador de conducción exclusivo de PlayStation.
Además, a través del Blog de PlayStation España, se han revelado 13 nuevos juegos que se sumarán a otros grandes títulos ya anunciados como Resident Evil: Village VR Mode, Star Wars: Tales from the Galaxy's Edge, Jurasic World Aftermath Collection o Moss I & II Remaster.
Puedes encontrar la lista de nuevos títulos a continuación:
Before Your Eyes
Kayak VR: Mirage
Pavlov VR
Puzzling Places
Song in the Smoke: Rekindled
Synth Riders
What the bat?
Rez Infinite
The Last Clockwinder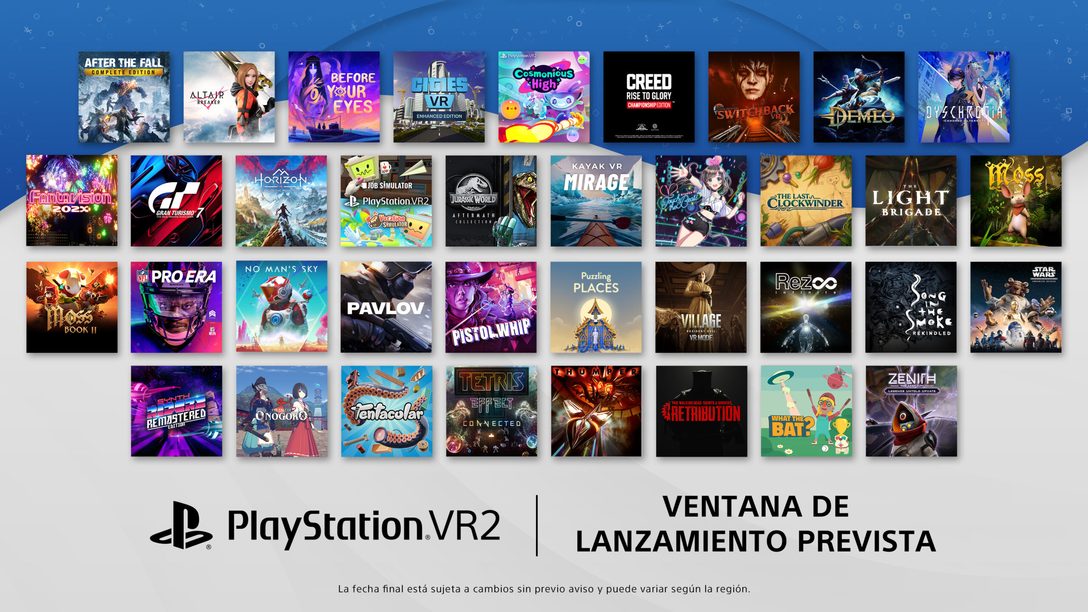 PlayStation VR2 traerá consigo numerosas e interesantes características nuevas como su fidelidad visual en 4K HDR, la vanguardista renderización gráfica, el seguimiento ocular del casco, y el seguimiento de dentro hacia fuera, que permite a los jugadores ver el exterior desde dentro del dispositivo. Por otro lado, el uso de las tecnologías de los nuevos mandos Sense de PS VR y la retroalimentación en el casco elevarán la inmersión a otro nivel. Además, el sistema se configura de forma muy sencilla con un solo cable.
PlayStation VR2 ya está disponible para reserva en los distribuidores principales y saldrá a la venta el próximo 22 de febrero a un Precio Recomendado de 599,99€. También podéis encontrar en esta entrada los principales detalles, packs. precios, además de las un primer vistazo a la experiencia de usuario.